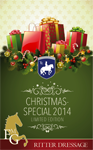 With five new exercises that are not contained in the regular Arena GPS. They are extremely effective exercises, which help to straighten the horse and to eliminate the natural crookedness.
The Exercises:
– Flying lead change with preparation
– Straightening exercise with turns on the forehand in motion, shoulder-in, and voltes
– Preparation and improvement of canter pirouettes
– Shoulder-in, reinback around the corner, and voltes
– Leg yield, renvers, passade, half pass, shoulder-in
We wish you a Merry Christmas and a Happy New Year!