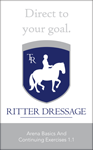 The Arena GPS 1.1 builds on the Arena GPS 1.0 and increases the level of difficulty. The exercises become more complex and more challenging for horse and rider. There are different types of exercises, all presented with graphics and short explanations. Exercises for testing specific abilities and skills, general suppling, targeted gymnastic development of individual muscle groups, preparing and/or improving dressage movements, improving the horse´s balance and body awareness.
The right selection of exercises improves the horse's balance, straightness, suppleness, thruness, impulsion, and collection.
– More than 55 exercises
– Adaptable to any level of training
– Most of the exercises can be ridden in all three gaits
There are some exercises that you can ride at the walk with a training or 1st level horse, but if you ride them at the canter, you may need an FEI horse.
You can also disassemble the exercises and make new ones out of the component pieces.
"It´s a little like playing with legos –  your arena work becomes very creative this way."
Excerpt: Excerpt ArenaGPS 1.1